What is the difference between an evaporative cooler and an air-conditioning system?
Working in a warehouse or in a workshop can be challenging for employees as they have to face high temperatures.
Then, one must choose the most suitable solution in order to cool down the ambient air and
provide the best thermal comfort possible
. If you are wondering what are the
differences between an air cooler and an air-conditioner
, FoxAir brings you answers to help you make your decision.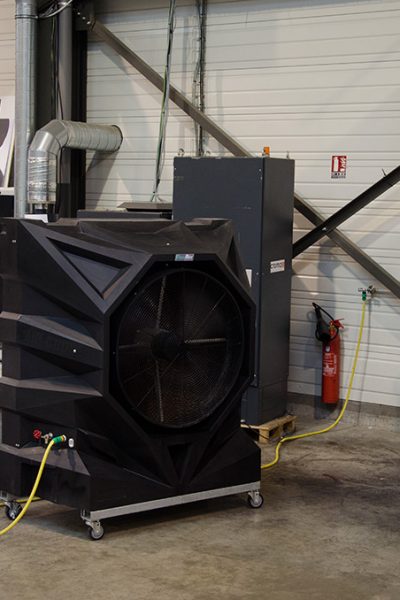 How to distinguish an air-conditioner from an air-cooler?
Even though people often mistake evaporative air coolers and air-conditioners, these two equipments have very little in common.
Air-conditioning systems use refrigerant agents (known as harmful) to cool the air. On the other hand, air coolers recreate a natural process: evaporation. To do so, the tank is filled with water (or is connected to a water supply) and the machine is plugged in a socket. The ambiant air is sucked inside the device, goes through a humidified media and is finally blown in the premises. The air is naturally cooled off.
At last, air-conditioners are usually made of at least two units: the external unit harnesses the ambient air before transforming it, and one or more inside units blow this air. Meanwhile, air-coolers are cast in one piece.
Air-conditioning systems rely on a heavy and costly installation which cannot be moved afterwards. On the contrary, a portable evaporative air cooler can be placed where and when it is needed the most.
Advantages of a FoxAir industrial air-cooler
As mentionned above, an evaporative air cooler has many advantages for professionals:
it is environmentally friendly
it does not require any installation (which means you can save money)
it can be moved thanks to its wheels
FoxAir, evaporative air cooler specialist, has designed a range of products that are intended for professionals and are particularly appropriate for large areas.
Their main assets?
Highly performing: a single device can cool off an area from 90 to 370 square meters.
A low energy usage.
Our EC models are even more quiet and allow you to optimize their power to do some additional savings.
They are available for sale or rental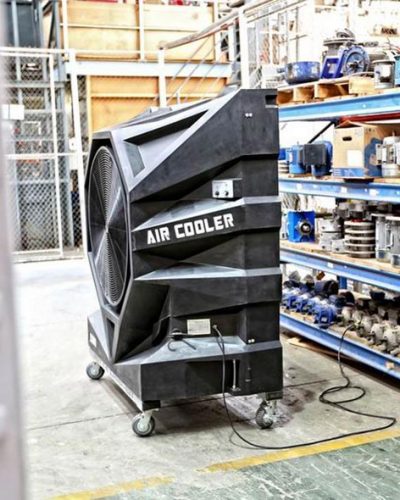 Do you have a question? Do you want a quotation?