Do you wish to equip your premises for your employees' comfort? Are you wondering what are the differences between an
air cooler and a humidifier
? Do you think they are the same thing?
FoxAir, evaporative air cooling system specialist, explains the differences between both of them and what their distinctive features are.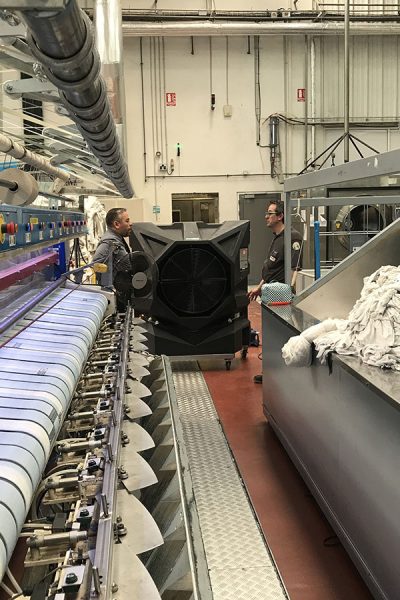 Air cooler and humidifier: is it the same thing?
They share a common task: they humidify the atmosphere and increase the humidity in the air.
In fact, they are quite different as there are many types of humidifiers and air coolers are part of them.
Indeed, many of these devices are very similar to spayers: once the tank is filled, water is blown inside the room. Others blow a thick cold steam or send ultrasounds to propel water drops in the atmosphere. An air cooler is very much different from all these ways of doing as it does not propel water in the air.
In addition, a "humidifier" targets a more domestic use, whereas an evaporative air cooler can be fit for both domestic and professional use.
If you are a professional looking to treat a large area, evaporative air coolers are the best choice to make.
How does an air cooler work? What are the advantages?
Evaporative cooler's aim is simple. The device imitates a natural phenomenon : evaporation.
How? Ambient air is captured by the fan, then goes through a humidified media and is finally spread in the room. Because water has been evaporated, no water drops are sent into the air and the temperature decreases rapidly (depending on the humidity rate in the air).
This solution is both ecological and economical : it does not consume a lot of power, it has a great autonomy and it does not use any refrigerant agent (unlike air conditioning systems).
Cherry on the cake: as it is cast in one piece, it does not require any costly intallations.
For a professionnal, there is one clear advantage: an industrial air cooler such as FoxAir's range  can cool down from 90 to 370 square meters. Equipped with wheels, you can move them to the places where you need them the most.
With all this information about the differences between an air cooler and a humidifier, you can make the best decision for your particular situation.