Evaporative air coolers: How does it work? Let us explain
Performing and less expensive than an air-conditioning system, professional air coolers lower the temperature in a significative way in premises that are exposed to high heat.
FoxAir, evaporative air cooling specialist, presents its
range
of products and answers this question: an
evaporative air cooler, how does it work
?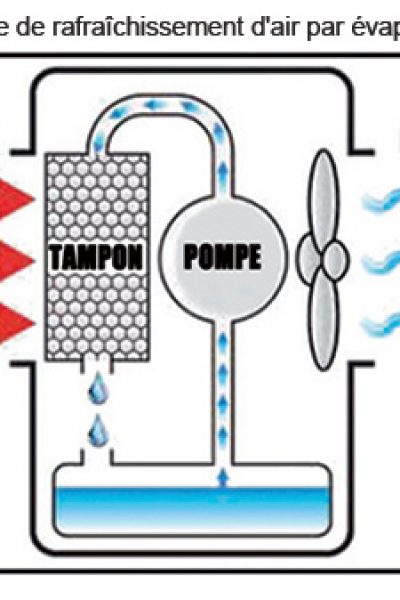 Evaporative cooling: a natural and efficient process
An air cooler lowers the ambient temperature by reproducing a natural phenomenon: evaporation.
In practice, the device has a large tank to be filled with water before it is plugged in a socket. Once turned on, the air cooler sucks hot air which will go through a humidified media (humidified by the water in the tank). Cooled air is then blown in the room thanks to the fan.
The higher the temperature and the lower the humidity rate, the more efficient the cooling will be. For instance, given a temperature of 36°C and a humidity rate of 20%, then the temperature can decrease by as much as 15°C.
FoxAir : a range of products to answer all needs
FoxAir has a range of 4 industrial air coolers that answer professionals' needs periodically or occasionally.
A single device can cool down an area from 90 to 370 square meters depending on the size. They all can be moved easily thanks to their wheels and be placed where and when you need them the most.
Of course, the system's efficiency depends on the surface and the premises' layout to be treated. Several devices might be needed to cool down a space in which machines take up too much room. On the other hand, only one FoxAir device might be enough to treat a clear surface where air can easily be spread.
For this reason, FoxAir goes beyond simply selling or renting its products: we advise and assist you to implement a custom-made solution, which is perfectly suited to your needs.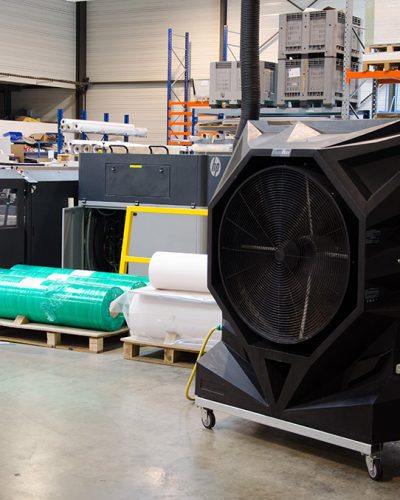 We are at your disposal for any further information.