In a time when environment is at the center of all considerations, it is primordial for companies to master their carbon footprint and promote ecological cooling solutions.
For this reason, FoxAir introduces its range of evaporative air coolers specially conceived for industrial use. We explain to you what are the obligations for companies in terms of greenhouse gas emissions, and present the adavntages of our evaporative cooling systems that allow performance and energy savings.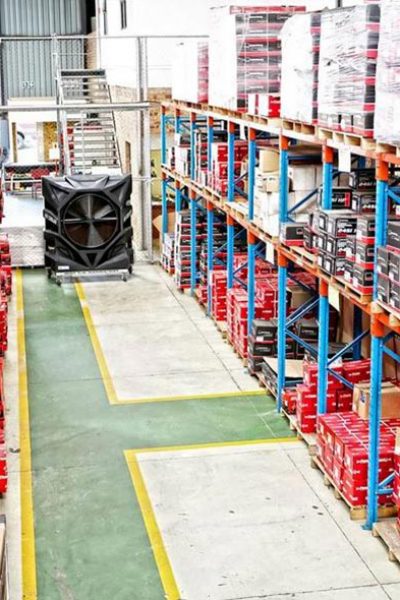 Firms and carbon footprint: What the law states
French firms, and more specifically large ones, are obliged to acheive carbon neutrality: reduce their energy consumption and compensate the rest.
As the Ministry of Ecological and Inclusive Transition states,  in the article 173 of the energetical transition for the green growth law, companies are forced to publish their yearly carbon footprint linked to their activity, products and services offered.
This transparency obligation encourages companies to set up solutions in order to reduce their environmental impact.
Even though air conditioning use is not regulated, it remains a great stake in the industrial sector where it is essential to equip workshops and warehouses so as to ensure the well-being of the employees but also the good functioning of the machines.
Finding an eco-friendly cooling solution can be part of means from large companies to meet carbon neutrality.
Our equipment range for a natural cooling
FoxAir is a specialist of the evaporative air cooling based in France and Belgium.
Our core business? Offer to companies and industrial groups a tailor-made natural cooling solution to guarantee a better thermal comfort too the employees.
In order to do so, we conceived a range of evaporative coolers capable of covering  surfaces from 90 to more than 370 square meters.
The main difference with a traditional air conditioning system? They are evaporative, meaning that the cooling process is 100% natural; making this solution a non-polluting cooling solution.
How does it work? It is quite simple : we fill up the water tank (from 135 to 300L for a most autonomous use) and we plug in the machine to the socket. The machine then sucks the ambient air and makes it go through the medias (humidified by the water from the tank) to evaporate it. This naturally refreshed air is then blown in the room thank to the fan.
If you combine high temperature to low humidity, you get the perfect conditions for a performing cooling. Our equipements can lower the temperteature by 15°C under certain conditions, keeping a leveled and stable humidity within the premises, without using any highly toxic refrigerant fluids.
Pros: Two of our models are equiped with EC engines allowing a more specific use of the power available with the machines to make even more engery savings.